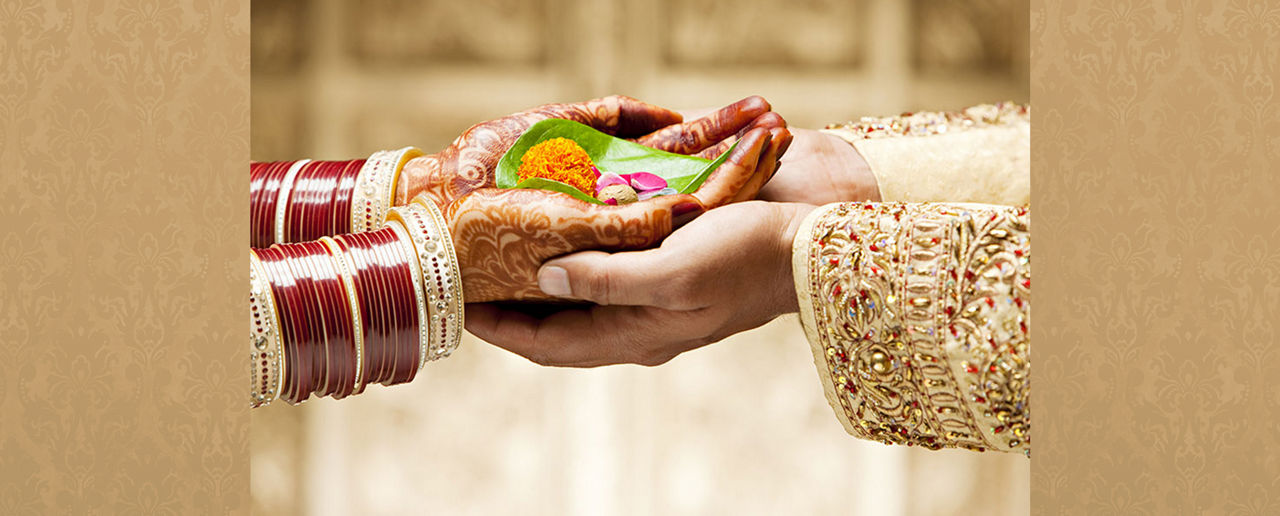 Five Unique Wedding Rituals You'll Find Only in India
Have you ever noticed how at every Indian wedding you witness a new ritual or at least a cultural variation you've never seen before? No matter which part of the country it is from, every wedding in India, is a kaleidoscopic medley of colours, emotions and most significantly, a montage of fascinating traditional rituals. The festivities which begin a week, sometimes even a month in advance, are full of distinct cultural practices often involving food, music and an elaborate collection of wedding outfits.
This ethnic diversity is what makes Indian wedding traditions so vibrant and full of exciting surprises. Despite the heterogeneity, the fundamental idea is very much the same - to dress up, celebrate and keep these extraordinary traditions alive. In keeping with the spirit of preserving such unique rituals, here are five wedding customs you'll find only in India.
Muhurt Karane - Beginning of a Maharashtrian Wedding
Once the wedding date is fixed and the couple is engaged, the wedding preparations of a Maharashtrian wedding commence a few months before the wedding day. Sisters and friends of the bride's mother are invited to help with some crucial Muhurt Karane customs like rolling papad, grinding the auspicious haldi powder, and organising a traditional bridal exhibition called rukhvat, where stunning bridal sarees, exquisitely crafted bridal lehengas, the perfect pre-wedding outfits jewellery for the trousseau are shopped and displayed, along with kitchenware, sweets and other accessories. This is the time when all the shopping lists are made, essential purchases for the bride are completed and the wedding festivities are officially initiated.
Aiburo Bhaat - The Last Pre-wedding Meal of a Bengali Bride and Groom
One day before the wedding, the Bengali bride and groom sit down for their last lunch at their own homes. Aiburo Bhaat is a beautiful ritual where an elaborate spread of all the favourite dishes of the bride and groom are cooked and they enjoy the feast to their heart's content, one last time as unwedded people. Food is an emotion in this part of the country and so this ritual holds great significance for most Bengalis. Special outfits are chosen for this lunch with the bride dressing up in chromatic ceremonious hues of pink, green, gold or red, usually opting for the ever graceful yet unrestrained saree, which ensures that she looks great while she comfortably relishes the meal. The groom also opts for easy going, pleasant kurta sets in summery pastels or bright festive colours, to make the best of the extravagant lunch.
Mameru - A Gujarati Bride Receives Gifts from her Maternal Uncle
A day or two prior to the wedding day, a Gujarati bride's maternal uncles visit her home. Mameru, also known as Mosalu, is a ceremony where the bride's mama (mother's brother) and mausa (maternal aunt's husband) bring gifts for her. Luxurious trousseau baskets and trays with traditional sarees, jewellery, sweets and other gifts are presented. The family and close friends dress up in ethnic outfits and often get together in a circle for a fun, celebratory dance while holding the gift baskets. The bride seeks blessings from her uncles and the gift baskets are later filled with sweets and returned to them after the wedding.
Wanvun - A Kashmiri Musical Evening
In the days preceding a Kashmiri wedding, an auspicious day is chosen for a ritual known as Livun, in which the entire house is spring cleaned. From the day of the Livun, till the wedding day, a traditional genre of Kashmiri chorus singing - known as Wanvun is performed every day by old women from the community. Family members and guests from the neighbourhood arrive in their beautifully embroidered ethnic outfits for an evening filled with music and celebrate this long standing custom. An indigenous percussion instrument known as Tumbaknaer often accompanies the vocals. Each musical evening is concluded by serving the customary noon chai (salted pink tea) to all the attendees.
Vidaai - A Punjabi Bride's Farewell
The Vidaai is one of the most momentous rituals for a Punjabi bride and is an emotional moment for every member of the family. Once the wedding ceremony is complete, the bride, still in her wedding attire - typically a heavily embroidered lehenga in shades of red, maroon or pink - bids goodbye to all her friends and relatives. She then walks out of her house while throwing puffed rice over her head as a metaphoric gesture of gratitude and bestowing prosperity upon the family. Traditional Vidaai songs are played on the shehnaai as she leaves her maternal home and embarks on a new beginning.
While this ceremony is part of almost all Indian weddings across different states and cultures, with the bride often saying a tearful goodbye to her childhood home, many brides today have made the tradition their own through unconventional statements. Like driving the car themselves as a symbolic expression of a relationship of equals or embracing the #DulhanWaliFeeling, as portrayed by Kiara Advani at her Vidaai, in this endearing film by Mohey, where she leaves all the wedding gifts behind and fills the boot of her car with her old belongings, so she can make the new house just like her home. The film ingeniously captures the essence of Vidaai while giving the tradition a new meaning.
India is the land of cultural diversity, and this diversity truly comes alive through all the big and small customs at weddings in every nook and corner of this country. Whether you're getting married within your own ethno-religious community, or celebrating a union of two distinct cultures,decoding the various Indian rituals for your wedding is important. Understanding the significance of the many unique wedding customs in India will help you choose which ones you relate with and wish to uphold, and tweak the others so you can celebrate them in your own way and still follow the tradition. Plus, the next time you attend a wedding, you'll be aware of what some of these special ceremonies mean. You won't just be a wonder-eyed spectator and you certainly won't be clueless about how to dress right for the occasion!
MADE IN INDIA
ASSURED QUALITY
SECURE PAYMENTS
EMPOWERING WEAVERS