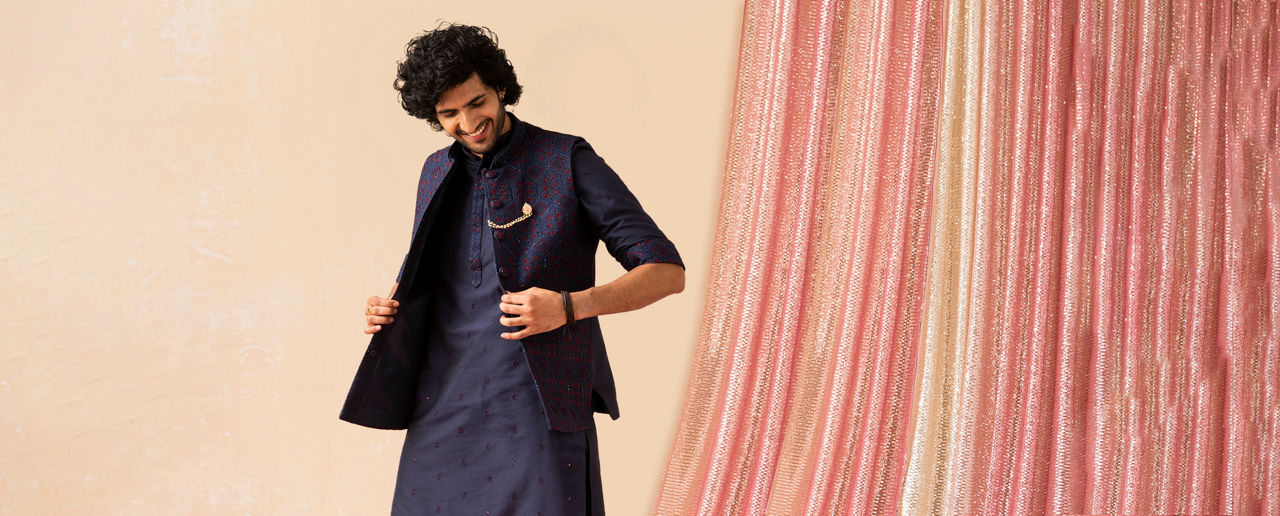 Through the years, men's kurtas have gone beyond the steadfast neutrals like white, black, beige and grey to include dramatic hues of pink, yellow, green, blue and more. With a whole spectrum of colours and designs available, it can often become difficult to determine the best colour for kurta pajamas for different occasions and seasons.
If you're in the midst of shopping for all the weddings you've got to attend this season, then we're here to eliminate the confusion and make your experience a delightful one!
Manyavar is here to help you with the ultimate guide to choosing the right colour for a kurta set
Introducing some colours into your Indian wear wardrobe is a great idea, but it's important that you do it right. We've done all the research for you and put together this convenient guide so you can look your best this wedding season. 
Choose colours based on the season 
It sounds pretty straightforward, but selecting season-appropriate colours for kurta sets can be tricky, especially when there are different fabrics, prints and embellishments to consider. Follow these simple guiding principles and you'll never go wrong with picking the best colour combination for kurta pajama for different seasons.
Spring
Think botanical hues of soft pink, pista green, off-white and lavender with an occasional burst of yellow when looking for trending kurta pajama colours for spring weddings. Delicate silk kurtas and fine georgette fabrics work well for the pleasant and breezy weather. Try dainty floral printed kurtas or chikankari embroidered kurtas in pastel tones that capture the essence of the season and convey a fresh appeal.
Winter
Plush velvets and lofty brocades - winters are meant for opulence and grandeur. Deep blues, warm reds and dazzling golds are some of the best colours for kurta pajama for frosty weather weddings. A royal blue kurta set or a wine or beige-gold jacquard kurta, are some great choices. Go all out with heavy embroideries, mirror work or gilded foil work and embrace elegant extravagance in the fall months.
Kurta colour combinations for men based on occasion
To spare you the complex conundrum of colours, we've worked out some of the best colour combinations for different wedding functions that are absolutely fail-safe and on-trend.
Haldi
Preparing to smear the groom with handfuls of haldi? Rely on radiant yellow kurta pajama set for a spirited look that's also traditional. Pick kurta sets in bright gold or fiery orange if you'd like to play around with something different. Mirror work, chikankari embroidery, gota-patti work - select distinct designs to express your unique style.
Mehendi
Depending on what time of the day it is, go for different shades of green or teal for a mehendi function. For an outdoor morning event a bold parrot green or a fresh tea will look great. Dark forest green and shades of emerald are better suited for evenings. Combine these colours with your favourite embroidery or embellishment and create your signature look.
Engagement
The engagement is an intimate event involving close family and friends. Dabble with hues of pink, blue, purple or brown - there are no strict rules for kurta colour combinations for men when it comes to this occasion. However, if you still need a nudge in the right direction, we recommend this dark green kurta set featuring multi-colour prints.
Wedding
The wedding day demands luxurious colours. The best colours of kurta pajama for the event are hues of red, rani pink, indulgent maroon and gold. Go for heavily embellished kurta sets or pair minimally decorated pieces with bold statement jewellery like a mala or a stone work bracelet when attending a wedding. For a complete look, try out this dark maroon patterned kurta set and team it with a dressy dupatta to elevate your outfit.
Reception
The reception is a more formal event where elegant shades work the best. Never underestimate the power of simple colours like black, white and grey if you wish to serve up some impactful looks at a wedding reception. Bandhgala kurtas with decorated plackets or elaborate embroidery in inky blacks, sophisticated whites and regal greys are some constant trending colours of kurta pajama for men.
Why Choose Kurta Sets
The kurta set has assertively survived the ebb and flow of cultural revolutions and time and again, returned to the mainstage, proving that it is a truly timeless outfit, unaffected by changing trends. So, the next time you're searching for a fashionable outfit to wear at a dear one's wedding festivities, without a doubt, pick the infallible kurta pajama.
Choose Versatility
The kurta has evolved into a canvas for gifted kaarigars and bunkars who have given it their own provincial identities, constantly innovating with distinct fabrics, dyes, weaves and needlework. Ethereal chikankari embroidery kurtas from Lucknow- much like this off-white one, lavish brocade weaves from Banaras, or contemporary sequined and mirrored kurtas – there is a rich treasure trove of craftsmanship to savour.
Embrace Traditions
The festive season calls for something special that celebrates the abundance of artisanal talent in our country. Besides, a formal pantsuit outfit can look rather monotonous and ill-suited for traditional Indian occasions. It's time to ditch the drab suit and appreciate the extraordinary kurta.
Kurta Pajama- Your Go-To Celebration wear
Owing to its multipotentiality, the kurta pajama ensemble has become one of the most preferred festive outfits for men. With so many choices, it is crucial to keep in mind that you select colours that are relevant to a given occasion or season. When unsure, identify colours that communicate your individual style, and for more inspiration head to Manyavar's Kurta pajama collection and explore colour options that suit you best.
MADE IN INDIA
ASSURED QUALITY
SECURE PAYMENTS
EMPOWERING WEAVERS